Subscribe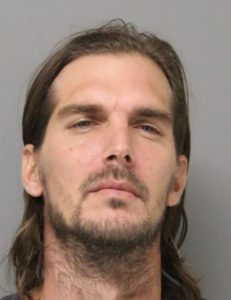 Greenwood/Harrington – Delaware State Police detectives have arrested a Greenwood man for a pair of early morning burglaries which occurred at businesses located in Greenwood and Harrington. according to Public Information Officer, Master Corporal Michael Austin.
Austin said the investigation, which involved patrol Troopers from both Troop 3 and Troop 5, as well as detectives from Troop 3 and Troop 4, began at approximately 5:01 a.m. on Friday, November 10, 2017, when Troopers responded to Al's Country Store, located at 4937 Hickman Road., Greenwood, for the report of an attempted burglary.
Responding Troopers to Al's Country Store discovered damage to the business but determined that no entry had been made. Further investigation revealed that the incident occurred at approximately 4:00 a.m., and that the suspect was a male, wearing a camouflaged jacket and mask, said Austin. It was also determined that the suspect fled the scene in a maroon Ford Fusion.
A short time later at approximately 6:12 a.m., Troopers were dispatched to a burglary which had occurred at the Farmington Mini-Mart, located at 332 Main Street., Harrington. Their investigation determined that at approximately 5:32 a.m., a subject wearing a camouflaged jacket, mask and gloves, made forcible entry into the business via a window and removed the cash drawer, which contained an undisclosed amount of money, before fleeing the scene, according to Austin.
Based on a variety of investigative leads, detectives were able to positively identify Roy G. Murray 3rd, 33, of Greenwood, as the subject responsible for both incidents, said Austin.
At approximately 8:41 a.m., on Saturday, Troopers located the Ford Fusion on Adamsville Road in Greenwood. Troopers performed a traffic stop on the vehicle and identified Murray as the operator, at which time he was taken into custody without incident. A subsequent search of the vehicle produced physical evidence further linking Murray to both burglaries, said Austin.
Murray was arrested and charged with one count each of Burglary 3rd Degree, Attempted Burglary 3rd Degree, Theft Under $1500, Attempted Theft Under $1500 and Criminal Trespass 3rd Degree. He was also charged with two counts each of Wearing a Disguise During the Commission of a Felony, Possession of Burglary Tools and Criminal Mischief Under $1000.
Murray was arraigned and subsequently committed to the Sussex Correctional Institution in lieu of $2300 secured bond.
Image Credits: Delaware State Police