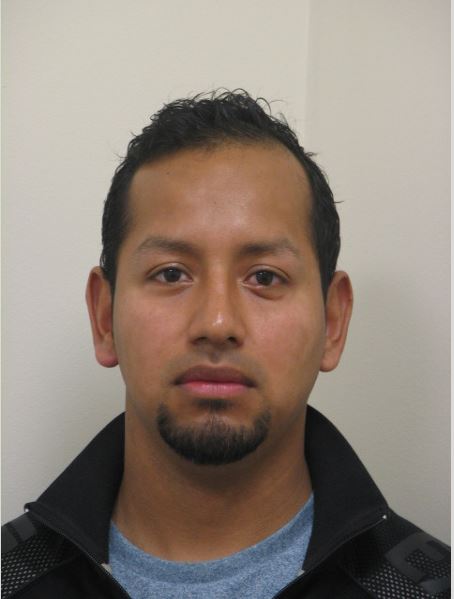 Newark – On Monday, April 17, 2017 Newark Police Department (NPD) arrested 26-year-old Carlos Maldonado, of Newark,  for the two incidents of Unlawful Sexual Contact and Harassment that occurred on April 14, 2017 as well as an incident of Harassment and Trespassing that occurred on April 12, 2017, according to NPD Spokesman Fred Nelson.
Nelson said Maldonado was linked to these incidents through surveillance footage, witness interviews, and evidence recovered from Maldonado's apartment following the execution of a search warrant on April 17, 2017. Maldonado was video arraigned in front of Justice of the Peace Court 2 and released on $5,100 unsecured bond.
Maldonado was charged with two counts of Unlawful Sexual Contact 3rd Degree. three counts of Harassment and Criminal Trespass 3rd Degree.
Original Story
Newark – Newark Police Department is investigating three possibly related incidents that occurred in the late hours of 4/14/17, according to Newark Police Spokesman Fred Nelson.  The first incident occurred at approximately 10:00 p.m. in the area of Lovett Avenue and Haines Street.  A 19-year-old female University of Delaware student reported that she was grabbed on the shoulder and buttocks as she was walking on Haines Street, said Nelson. The suspect continued walking past the victim after grabbing her and the victim called police a short time later.
Nelson said that the second incident occurred at approximately 10:35 p.m. on the sidewalk in the unit block of Prospect Avenue.  The victim, a 20-year-old female University of Delaware student, reported that she was grabbed on her buttocks by a male as he walked by, according to Nelson. He was last seen walking eastbound on Prospect Avenue.  This incident was reported to police approximately one hour and 20 minutes later.
The third incident occurred at approximately 11:25 p.m. and began in the area of N. Chapel Street and New Street.  The two victims, 20 and 21 year old University of Delaware students, reported that they were walking northbound on N. Chapel Street when a male began following them on foot.  The suspect continued following them to the area of Prospect Avenue, until one of them contacted police by cell phone.  Officers checked the area for the suspect, however, they were unable to locate him.
Suspect description: Hispanic or white male, 20 – 30 years old, 5'7'', thin build, beard, wearing a gray hooded sweatshirt, with dark colored pants.  No further description is available at this time.
There is no surveillance video available for release at this time.
Investigators from Newark Police and University of Delaware Police are actively working to identify a suspect in these incidents.  Anyone with additional information should contact Newark Police Detective William Anderson, 302-366-7100 x3469, or [email protected]
 You can send an anonymous text message tip by texting 302NPD and your message to TIP411. Information can also be provided anonymously to Crime Stoppers at 1‐800‐TIP‐3333 or via the internet at www.tipsubmit.com where a reward may be available.
Image Credits: Newark Police