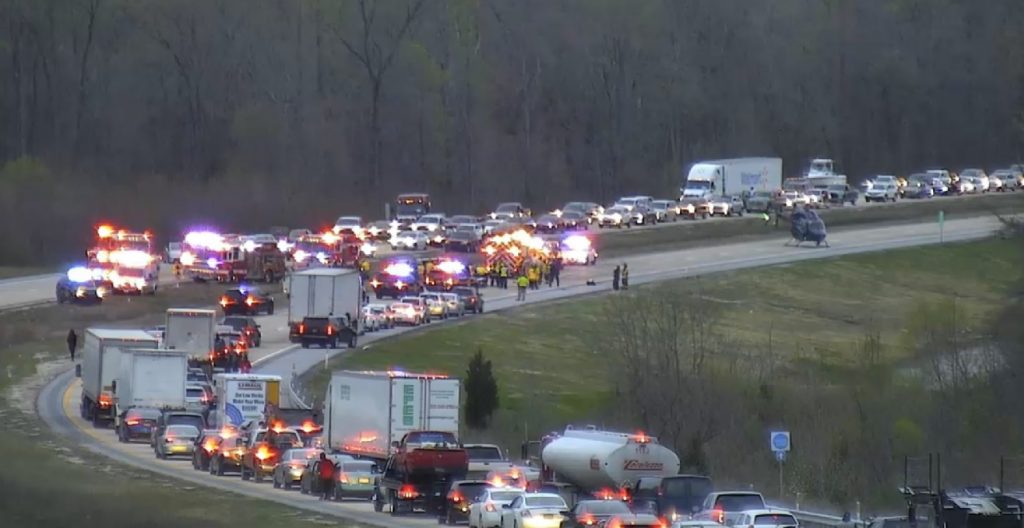 Newark – Three major accidents occurred within hours of each other Thursday evening and early Friday morning. The accidents completely shut down Route 1 and I-95 at times. Ken Grant,  the spokesman for AAA Mid-Atlantic, is advising motorist to drive safely.
"The AAA Foundation for Traffic Safety recently released its Traffic Safety Culture Index, which identifies attitudes and behaviors related to traffic safety. According to that study, we have a 'do as I say, not as I do' culture when it comes to activities like speeding and distracted driving. The vast majority of drivers recognize the dangers of these behaviors, yet the majority of drivers also admit to engaging in those same bad habits. Whether a driver is commuting across town, driving across state, or embarking on a journey across country, the advice from AAA remains the same – plan ahead, give yourself plenty of time to reach your destination, drive at safe speeds, and remain focused on the road.", said Grant.
The first incident left a Smyrna man in the hospital with serious injuries. That accident occurred in Townsend just after 7:00 p.m. on Thursday night.  Police said that Thomas Baker, Jr., 34, of Smyrna, was operating a 2004 Chevrolet Trailblazer and was traveling in the left hand lane on southbound SR-1 north of New Discovery Road, Townsend. When Baker attempted to enter into the right hand lane of SR-1 the right side of his vehicle struck the left side rear of a 2014 Hyundai Sonata.
Baker's vehicle then veered to the left and entered the center median, where it overturned several times before coming to rest on its right hand side in the left hand lane of SR-1 northbound.
Thomas Baker, who was properly restrained at the time of the crash, was trapped in his vehicle until he could be extricated by responding EMS personnel. He was treated at the scene by New Castle County paramedics before being flown by Delaware State Police Aviation (Trooper 4) to the Christiana Hospital, where he was treated for his serious injuries. Baker was cited by troopers for Inattentive Driving and several other license and registration violations. There were no other injuries.
SR-1 northbound and southbound were closed in the area for approximately 1 hour as the crashed was investigated and cleared.
The next incident occurred less than two hours later. Rescue crews responded to an accident on Route 1 near  273 in Bear. That crash closed the highway for more than an hour as crews worked the accident. Route 1 was a parking lot from the mall to 273.
In a third accident that occurred early this morning, just across the Maryland state line on I-95 SB, a vehicle left the roadway and struck a tree before rolling approximately 80 yards.  In that accident, that occurred around 6:00 a.m., two patients were extricated from the vehicle and flown by Maryland State Police Helicopter to Shock Trauma in Baltimore.
All South bound lanes were closed for more than an hour as rescue crews worked to free the passengers. North Bound lanes were closed as the the helicopter landed and again as it left for the hospital.
Image Credits: First State Update, DelDOT