Bear- The Delaware State Police Collision Reconstruction Unit continues to investigate a motor vehicle crash which has claimed the life of a 67-year-old male pedestrian that occurred last night, according to Public Information Officer, Master Corporal Jeffrey Hale.
hale said the initial investigation has determined that the crash happened at approximately 8:09 p.m. last night, Sunday, April 23, 2017, as a 67-year-old male pedestrian was attempting to cross the eastbound lanes of US Rt. 40 (Pulaski Highway) at DE Rt. 72 (Wrangle Hill Road), in a northbound direction. As the pedestrian stepped into the roadway, he entered into the path of a 2007 Mercedes S550, which was traveling in the left hand lane of eastbound Rt. 40, and which was being operated by a 39-year-old Newark man, according to Hale.
The operator of the Mercedes attempted to avoid striking the pedestrian by braking and swerving to the left, however, the right front of the Mercedes struck the pedestrian. The victim was vaulted onto the hood and windshield of the vehicle before falling off and coming to rest in the left hand lane of the roadway. The operator of the Mercedes, was able to bring his car to a controlled stop in the grass median just east of Rt. 72.
The male victim was treated at the scene by New Castle County Paramedics before being transported to the Christiana Hospital where he was pronounced dead. The name of the victim is being withheld pending the notification of his next of kin. It is unknown if impairment on the part of the victim was a factor in this crash, said Hale.
The operator of the Mercedes, who was properly restrained at the time of the crash, was not inured. Impairment and speed on the part of the operator is not being considered as a factor in the crash. It has been determined that the traffic control signal for eastbound traffic was green at the time of the crash, Hale added.
The eastbound lanes of US Rt. 40 were closed for approximately 2 hours as the crash was investigated and cleared.
Original Breaking Report
Bear –  A pedestrian was struck on Route 40 at Fox Run Shopping Center just after 8:00 p.m. this evening.
Reports  from the scene indicate that the patient was being given CPR shortly before the Delaware State Police helicopter was told they would not be needed. Reports indicate that the patient has died. Route 40 EB remains closed due to the investigation.
We are awaiting information from the Delaware State Police. Developing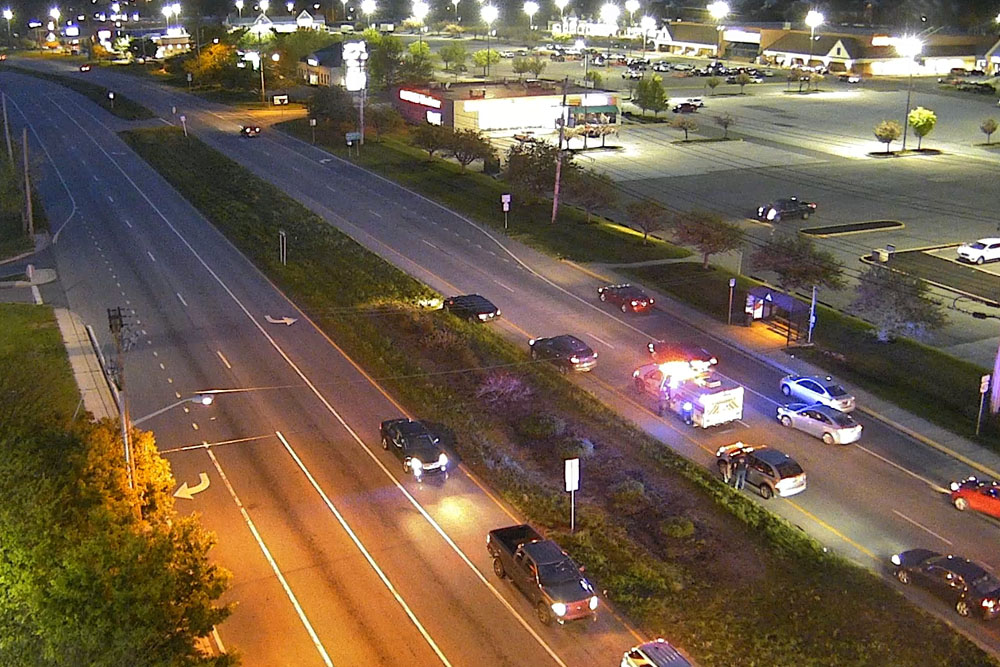 Image Credits: DelDOT