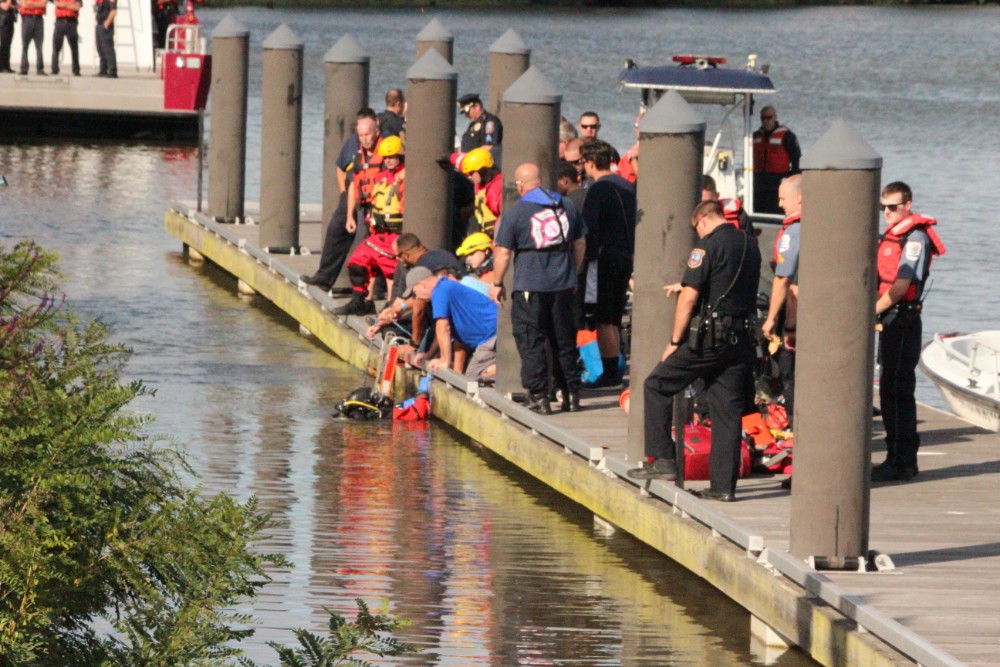 Update: Authorities have recovered the body of man that crashed into the river in Wilmington this afternoon. More to come.
Original Story
Wilmington – At around 3:30 this afternoon a man in a silver pickup truck turned onto Beech Street at a high rate of speed and crashed into the river, according to Kevin Hart, who witnessed the accident.
Hart said, the vehicle turned the corner screeching his tires speeding through the grass, breaking through the River Front gate becoming pinned between the dock and the shore.
Good Samaritans playing putt putt golf nearby, rushed to the scene with their golf clubs and began trying to break the windows in an attempt to get the man out.
As the vehicle began to sink into the water the good Samaritans had to jump out of the way for their own safety.
The man appeared to be unconscious, although the airbags did deploy, according to Hart.
As the vehicle submerged it became to dangerous for anyone to attempt to make a rescue.
Authorities where dispatched after numerous calls where placed to 9-1-1 dispatch.
Arriving crews began a search for the vehicle and located the patient at around 4:20 this afternoon.
The silver pickup truck had reportedly been in an accident shortly before turning onto Beech Street, according to witnesses.
A woman was heard on scene saying that a silver pickup truck had struck her vehicle and she was attempting to catch up with the other vehicle, according to Hart.
Hart, the owner of Hart General Contacting in Wilmington, was emotional as he and his wife recounted the story as their one year child slept in his car seat.
Thanks to Delaware Breaking News for their help in this story.
Developing