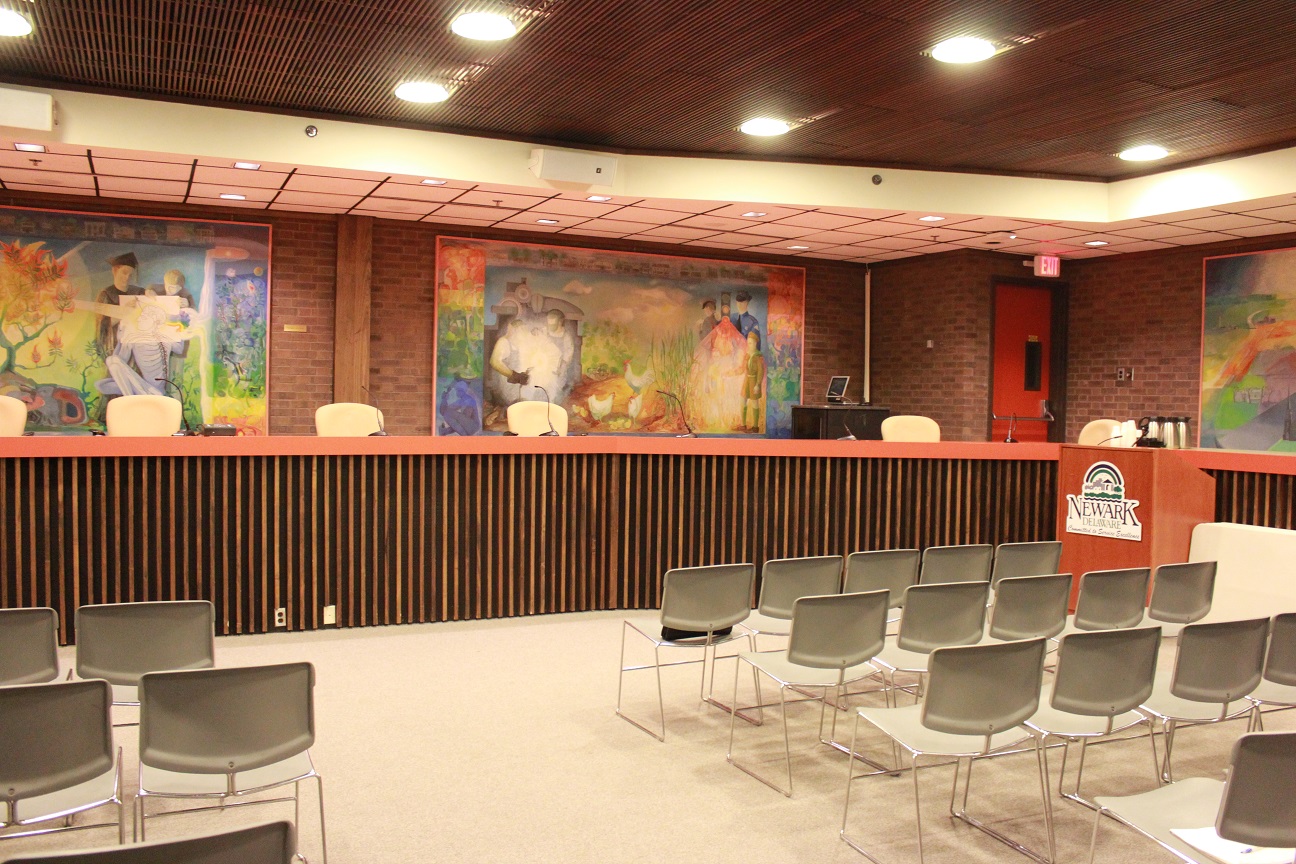 Newark – In a 4 – 3 vote, on Monday night, the Newark City Council rejected a proposed $87.4 million budget presented by acting City Manager, Tom Coleman.
Coleman said, "This is a conservative budget we feel will provide a solid foundation for the next city manager to build off as they develop their vision for where Newark heads from here."
Some members of the Council wanted Coleman to make deeper cuts to staff, while others looked at how some of the budget items would be financed.
Councilman Mark Morehead told Coleman that he believes there is personnel component that the council can do. "We have the responsibility to pass the baton to the next city manager in best shape that we can.", said Morehead. "I'd like to put a stake in the ground and just settle all of the people that think they're going to lose their jobs tomorrow morning.", said Morehead.  Adding "We are not talking about the front lines."
Discussion Period
Council Member Mark Morehead – Voted No
Morehead wanted more information about a $1.9 million dollar item that was coming out of the City's savings. Adding that he would argue that the budget doesn't necessarily balance. Morehead was also concerned that the budget relied on $8.8 million in borrowing.
Morehead said he had asked for information from Coleman that he has yet to receive.  Adding that he thinks it would be irresponsible for him to make a decision now without that information.
Council Member Luke Chapman – Voted Yes
Chapmen declined to comment on the budget. He used his time to discuss moving the Pomeroy Connection Trail project forward to the 2018 from 2019.
Council Member Jennifer Wallace – Voted No
University Contribution To City
When discussing the $5 million property tax exemptions that the University enjoys, Wallace encouraged city staff to come up with ways to make the University contribute more to the city and the infrastructure that helps it exist.
Cost And Size Of City Government
"It's just a reality that the bulk of our revenue goes towards staff. Our capital plan is limited because we have such a large government.", said Wallace.
City Finance Director David Del Grande interjected with "our staff concentration to budget is lower than other government agencies in the state."
Wallace responded with, "That's why I brought up the University of Delaware"
Del Grande indicated that there is a $15 million-dollar bucket that needs to be filled and if the University paid all of the $5 million property tax that would leave a $10 million-dollar bucket.
"Cutting a hundred thousand here and there is not necessarily going to solve our problem", added Del Grande, "what we need to focus on, is to ensure that our rates that we're charging are proper."
Raising Taxes And Reducing Utility Transfers
Del Grande is hoping that the city will begin to move away from the transfer of money from utilities to the city's general fund. "I would like to see us move in that direction. Provide some limits to our transfers to the general fund and not rely so much on our utilities and that we're using our proper taxing authority", said Del Grande.
Council Woman Wallace asked, "What is the plan?, if we get away from those transfers are we going to reduce utility rates when we raise taxes?"
Wallace said we need to begin a conversation with the public. Adding "is that something they want to do?", alluding to a move away from utility rate transfers to the general fund in favor of higher taxes.
Acting City Tom Coleman suggested that the city should take up the issue early next year. It's not clear if Coleman is planning to publicly lay out his vision on the matter before the council votes on the city manager's job.
Council Member Chris Hamilton – Voted No
"I've seen staff grow 10% in a 4-year period, obviously that's unsustainable, so where do we cut that off. I'm not comfortable voting on a budget tonight until we get some of those answers", said Hamilton.
Council Member Jerry Clifton – Voted No
Clifton said, "I agree with Councilman Hamilton and others that have spoken about the personnel issues. I can't stress it enough, I think it's the elephant in the room. That not just helps us today, it helps us going into the future. I hope that we have a serious conversation at the next meeting about this."
Council Member Stu Markham – Voted Yes
Referring to the idea of limiting utility transfers, Markham said that going the tax route would be painful.
"On the head count, yes, that's where most of our cost are but there's something that sticks in the back of my brain. People Equal Service.", said Markham.
He worried how the quality of service would be maintained if the staff was cut. One suggestion he had was using technology. "But that has cost associated with it too", added Markham.
Mayor Polly Sierer- Voted Yes
The mayor said that she agreed with all of Councilmen Markham's comments.
After the council made their comments and voted the budget down, Coleman asked for direction from Council on staff cuts suggestions. "What I don't have is an order of magnitude. What are you looking for?", asked Coleman.
Mayor Sierer asked those that voted no to provide Coleman suggestions on staff cuts and other proposed budget cut ideas.
While most said they will need a few days to go over the information Councilman Clifton had some ideas. He didn't want to go into specifics in public, but he said he sees a pathway to about $300,000 in savings.
Council will bring the issue back up in early December.
Correction: An earlier version of this article stated that that Acting City Manager Tom Coleman was hoping to become the new city manager. Kelly Bachman, the City of Newark Communication Manager tells First State Update that Coleman is not seeking the job.