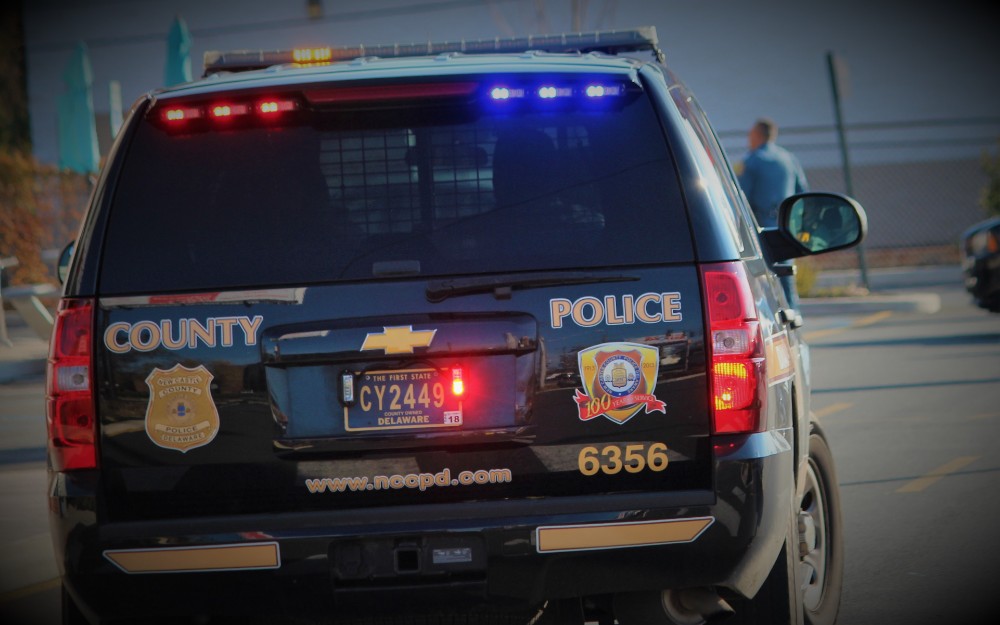 Newark/New Castle – The Delaware State Police and New Castle County Police have arrested Shawn G. Madden, 32, of Newark, on multiple felony charges stemming from two gun related incidents that took place in their respective jurisdictions within a ten minute time frame, just after midnight on Wednesday, according to Public Information Officer, Master Corporal Michael Austin.
Austin said the investigation began at approximately 12:38 a.m., Wednesday, May 30, 2018, as Troopers responded to an armed robbery at the 7-11 convenience store, located at 699 E. Chestnut Hill Road, Newark.
In this incident a white male suspect with a beard and in possession of a handgun approached the 53-year-old male employee at the sales counter and demanded cigarettes and cash. The employee complied with the demand by turning over an undisclosed amount of cash and multiple packs of cigarettes to the suspect who then fled in an unknown vehicle. The employee was not injured as a result of the incident.
At approximately 12:49 a.m., a shots fired incident occurred in the parking lot of Georgetown Village Apartments, located in the 200 block of Christiana Road, New Castle, and a red Dodge Charger was identified as a possible suspect vehicle, said Austin.
While responding to the apartment complex, a New Castle County Police Officer observed a red Dodge Charger in the area of Churchman's and Airport Road. The Officer performed a traffic stop on the Dodge in the area of U.S. 13 and Bacon Avenue, at which time she made contact with the operator who was positively identified as Madden. The Officer immediately recognized that Madden matched the description of the suspect in the 7-11 robbery after hearing a prior radio broadcast, said Austin.
A subsequent search of Madden's person as well as the interior of the vehicle produced evidence linking him to the robbery, to include cash and cigarettes along with a small caliber handgun, according to Austin. Through further investigation Madden was also positively identified as the subject who discharged the firearm at Georgetown Village, added Austin. No injuries or property damage resulted from the firearm being discharged.
Madden was taken in to custody without incident and then transported to Troop 2 where he was charged with the following in regards to the robbery:
Robbery 1st Degree
Carrying a Concealed Deadly Weapon
Possession of a Firearm if Previously Convicted of Felony
Possession of a Firearm by a Person Prohibited
New Castle County Police also charged Madden with the following in regards to the Georgetown Village incident:
Possession of a Firearm within 10 Years of Prior Conviction (2 counts)
Discharging a Firearm in the Area of an Occupied Dwelling (2 counts)
Madden was arraigned on all charges in Justice of the Peace Court #2 before being committed to the Howard R. Young Correctional Institution in lieu of $230,200 cash bail.
Anyone with information regarding these incidents are asked to contact Detective A. Tenebruso of the Delaware State Police Troop 2 Robbery Unit at 302-365-8435 or Officer Balbuena of the New Castle County Police at 302-573-2800.