Smyrna Police detectives are still actively investigating the case involving the human remains discovered at the Little Lass fields in September 2019.
Days ago, officials announced that persons of interest, in this case, were in custody out of state.  Today Smyrna Police announced that a Pennsylvania couple, Kristie Haas, 28, and Brandon Haas, 38, both are formerly of Smyrna.
The child victim in this case has been preliminarily identified as Emma Cole, 3years of age at the time of her passing.
Police said this investigation remains active and ongoing, and there are no further details to be released at this time.  There is no active threat to public safety, officials said Thursday.
Update
Smyrna Police investigators have recently reached a breakthrough in the years-long human remains investigation they have been conducting, officials announced Tuesday.
Officials said persons of interest in the case are currently in custody out of state. This investigation remains very active, with search warrants being executed, evidence being processed, and interviews being conducted. As such, releasable information remains limited.
We are being assisted by the Federal Bureau of Investigation in this matter. If and when the persons of interest are transferred to our custody, we will announce their full details as well as any crimes they are being charged with. There are no further details to be released at this time.
Original Story
On 9/13/19, the remains of an unidentified deceased child were located near the Little Lass fields in Smyrna, Kent County, Delaware.
The investigation has revealed that the female child was deceased for several weeks or possibly longer.  Police say she was Caucasian or Hispanic, and likely between the ages of 2-5 years old.
The child had slightly wavy brown hair.  An anthropological exam of her remains suggests that she suffered from chronic illness(es).
During this investigation, Smyrna PD detectives have partnered with numerous allied agencies to include the National Center for Missing and Exploited Children (NCMEC) and the Delaware Division of Forensic Science.
The images being released are facial reconstructions created by NCMEC Forensic Artists which depict what the child may have looked like prior to her death.
As this investigation continues, Smyrna PD ia still seeking tips from the public about the child's identity and any possible suspect information.
They are asking that the public take a close look at these images and report any and all possible information on this case to the Smyrna Police Department, Crime Stoppers, and/or The National Center for Missing and Exploited Children.  Tipsters may remain anonymous.
Smyrna PD: Attention Detective Bill Davis, 302-653-3490
Crime Stoppers:  1-800-TIP-3333
NCMEC: 1-800-THE-LOST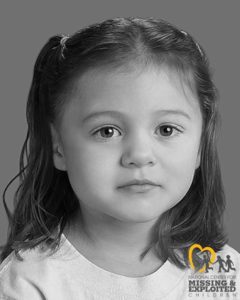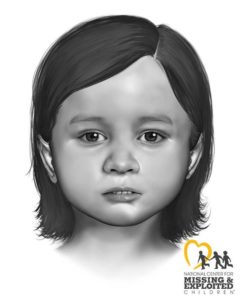 Original Story
Smyrna – For a third straight day investigators are on scene at the Little Lass softball fields in Smyrna continuing a death investigation that began on Friday.
On Saturday Smyrna Police confirmed that human remains were discovered at around 4:30 Friday afternoon in the area of the Little Lass batting cages, located at 887 Duck Creek Parkway.
Officials said that It is believed that the remains are that of a child and that they believe that the child was less than 10 years of age.
On Friday officials said they were being assisted by the Delaware Attorney Generals Office, the office of the Chief Medical Examiner and the Delaware State Fire Marshal's Office.
This morning, Sunday, at around 8:20 investigators with the Fire Marshal's office once again dispatched to the scene along with Saint Francis' Special Operations Rehab Unit. With the temperature expected to be in the 80s and the humidity level at 90%,  Saint Francis was likely dispatched to set up cooling and hydration tents for the investigators.
With few details emerging from the scene local parents have taken to social media to see if anyone has details surrounding the investigation. Some of those parents wonder if they should be worried while others speculate on missing person reports and recent Amber Alerts. Police said on Saturday that they were withholding details surrounding the investigation to preserve the integrity of the investigation.
The investigation caused the cancelation of all games at the facility over the weekend and re-routed traffic away from the scene.
DelDOT released the following statement" "DUCK CREEK PKWY IS CLOSED BETWEEN MAIN N MAIN ST AND HE SMYRNA HIGH SCHOOL DUE TO POLICE ACTIVITY
Effect / Impact: PLEASE USE AN ALTERNATE ROUTE"
Any persons with possible information are urged to contact Det/Sgt Brien Street at 302-653-9217.
This is a developing story.