he Delaware State Police have arrested 62-year-old Russel Ulrich of Newark, DE for multiple counts of reckless endangering following a shots fired incident in Newark on Tuesday night.
Officials said the incident occurred on May 30, 2023, at approximately 8:27 p.m., when troopers were dispatched to the Red Roof Inn located at 415 Stanton Christiana Road in Newark for a report of gunshots in the area. 
Upon arrival, troopers searched the area, and while canvassing the property they heard multiple rounds go by. Further investigation determined the gunshots came from a residence in the 1000 block of Old Churchmans Road. Troopers made contact with the homeowner, identified as Russel Ulrich, who was also determined to be intoxicated, and observed a gun and several spent casings in the rear of the residence. According to police  Ulrich was taken into custody without incident. There were no injuries reported.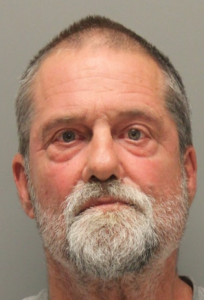 Ulrich was transported back to Troop 2 where he was charged with the following crimes:
Possession of a Firearm During the Commission of a Felony (Felony)
Reckless Endangering First Degree (Felony)- 5 counts
Possession of a Firearm While Under the Influence
Ulrich was arraigned before the Justice of the Peace Court #2 and committed to the Howard R. Young Correctional Institution on a $41,000.00 secured bond.