On Monday afternoon, Sussex County, Delaware, experienced a weather event that left a mark in the Dagsboro area. An EF-0 tornado, the weakest category on the Enhanced Fujita Scale, touched down in this region, resulting in localized damage.
The brief tornado occurred along Adams Road just east of Dagsboro, resulting in damage to multiple structures and trees in the area. During the incident, a shed located in the backyard of a residence on Adams Road experienced a partial roof and wall collapse. Additionally, another larger shed, situated only a few feet away from the first one, was shifted off its foundation, had its door blown off, and also suffered partial roof collapse.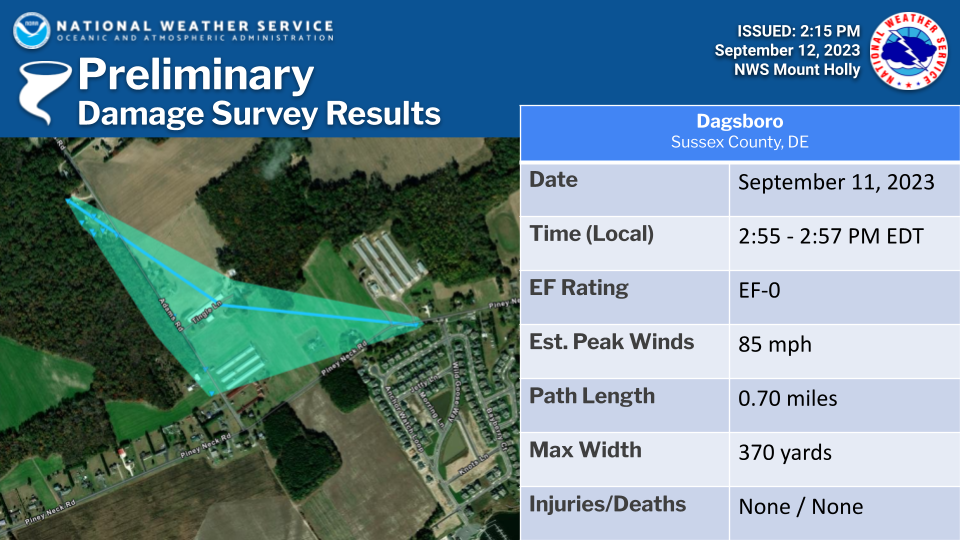 Further damage was observed along Adams Road, where three homes were affected. These homes had their glass windows blown out, and there was partial siding and shingle loss. Additionally, numerous large softwood trees behind the homes along Adams Road were uprooted, with large branches snapping off from their trunks.
As the tornado moved further south on Adams Road, near the intersection of Tingle Lane, minor siding damage was noted on a home, along with additional tree and limb damage. It is believed that this location marked the point where the tornado reached its maximum width, spanning approximately 370 yards.
The tornado continued its path briefly down Piney Neck Road, nearing the intersection of Wild Goose Way. Here, another softwood tree was uprooted in the backyard of a residence. Subsequently, it is likely that the tornado occluded and lifted, as no further damage was discovered further downstream from this point.