Newark-  Delaware State Police are currently investigating a crash which caused the closure of a Newark area roadway, according to Public Information Officer, Master Corporal Jeffrey R. Hale
Hales said that initial investigation has determined that the crash occurred at approximately 12:57 a.m. this morning, Thursday, March 30, 2017, on DE Rt. 2 (Capitol Trail) in the area of Possum Park Road, and involves a single vehicle which struck several unoccupied parked cars and a utility pole in the parking lot of the Possum Park Apartments.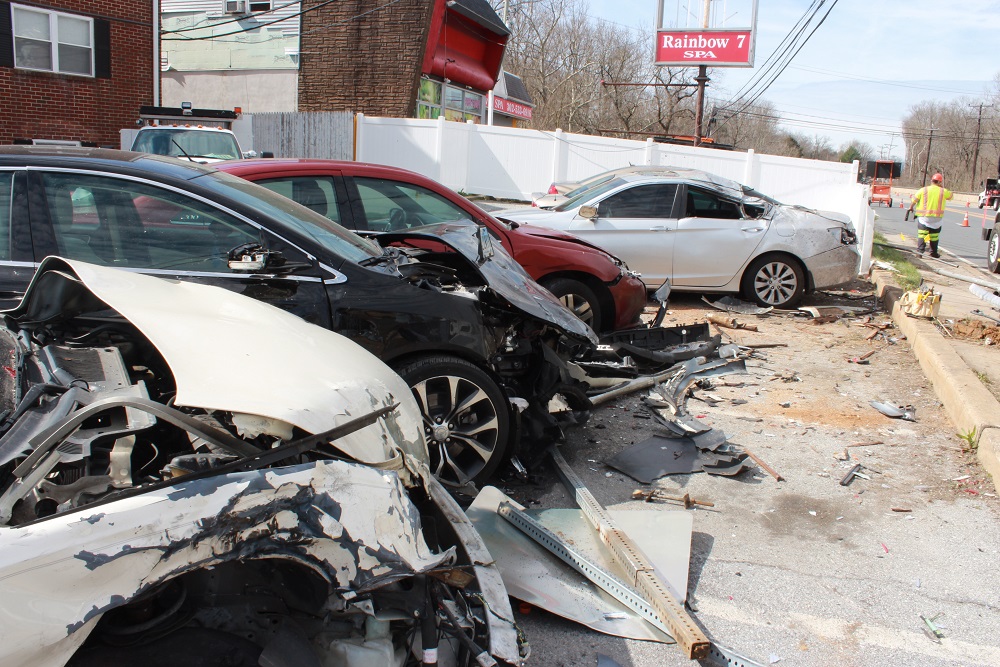 The male operator and sole occupant of the vehicle was removed from the scene and transported to Christiana Hospital to be treated for non-life threatening injuries. Witnesses at the scene said that the bloodied man, who appeared to be in his twenty's was cuffed by police shortly after the crash. Police have not said if they suspect alcohol or speed to be a factor in this incident.
"I heard a loud screeching noise, then a loud crash and a flash of light that was brighter than any light I have ever seen", said a man who lives in the Possum Park Apartments.
Tire marks at the scene indicate that the man lost control of his vehicle and went across traffic where he struck 9 parked cars and a utility pole. The weight of the pole also brought down a nearby pole, according to a utility worker repairing the downed lines.
As a result of the crash, DE Rt. 2 was closed in both directions between E. Cleveland Avenue and Possum Park Road, from around 1 a.m until around 7 a.m.
The road is still partially closed as crews rap up the repairs.
This crash remains under investigation by the Delaware State Police.
Image Credits: Jessy Bradley